Finally a current post! Last week Justine and I took some time off to do a road trip down into Oregon to do some mountain biking around Bend, Oregon. We made a stop in Portland on the way down, had four days in Bend, and then a long drive home on the holiday Monday. We rode some of the best trails in the area, did a day in a bike park, spent some time with friends from back east and generally had an amazing time!
Our trip started on Wednesday morning, with a goal to get off to a reasonable start - not super early, but we were trying to time the drive to miss traffic as much as possible. The day didn't start well as we discovered that our new mountain bikes don't perfectly fit the adaptors for the roof rack on Justine's car. After some searching online, we discovered that getting the right parts was going to be difficult, so we gambled with heading out, and hoping we would have luck finding the right parts along the way.
We stopped at REI in Bellingham, but they didn't have them, and they searched the system to find that the only store in the Northwest that did have the ones we needed were in Bend. So that settled, we got comfortable and continued on to our first stop in Portland. On the way down we checked in with a friend/coworker of Justine's that lives in Portland, and he was around and up for meeting us for a beer when we arrived. As he's in Northeast Portland, we stopped there before heading downtown.
After having a couple drinks with George he had plans and needed to split, so we headed downtown to our hotel. We stay at the same Courtyard Marriott because it;s in a great location, and is not your typical Courtyard. We lucked out with a great corner room on a high floor, with a great view. Sadly, the smoke from all the forest fires had resulted in the view being limited. It's a bit disconcerting when all you can smell is smoke.
After getting settle in and as unpacked as we needed to for a single night, we headed out to explore. It was unbelievably hot (over 100F), and so a beer was in order after the long drive down.
We were staying in the Pearl District, probably our favourite part of Portland, and we've come to know it well. Our first stop was at Deschutes brewpub, one of the cooler spots in this very cool town.
After having a beer at the bar at Deschutes, we continued wandering. We headed up to REI where we confirmed that they also didn't have the parts we needed, but did manage to find a few things to buy (as we always do...). From there we decided it was time for some dinner, so we headed to River Pig, this cool bar/restaurant we discovered last time we were in Portland. As we did last time, we sat at the bar and had dinner and a couple of beers. The atmosphere is always fun, and we were enjoying our holiday.
After dinner, we continued our Portland beer tour. We headed over to Rogue and sat outside on the patio. It was very hot, and Justine enjoyed spraying me down with the misting bottle they provided. After that diversion we headed over to our favourite spot - 10 Barrel Brewing. Sadly the patio was closing already (10:00 - come on, what is this, Vancouver?) so we were forced to do our taster in the bar.
It was close to midnight by the time we rolled back into the hotel. It had been yet another very fun night in Portland. In the morning we were both moving a bit slowly, so we headed downstairs for a good breakfast at the funky eatery attached to the hotel. I love that place, and since it was a weekday it wasn't jammed. After breakfast we got packed up, got the car and headed back out on the road.
We had another 3 1/2 hour to Bend, so we headed south on the I-5 until it was time to head inland and into the forest. The drive is really nice; very scenic and fun. The smoke from the forest fires was so thick that you really couldn't see much. We stopped at the Detroit Dam for a bit of a break, and it was amazing how thick the smoke was.
As we headed east towards Sisters, the smoke got thicker and thicker, until we passed an area where they were actively fighting fires. Thankfully after that the smoke started to clear, and the views got better as some very interesting peaks in the Cascade Range started to come into view.
As we approached Sisters, I knew that the Pacific Crest Trail was going to cross Highway 20, so we stopped at the trailhead with the plan to at least hike a little bit on the trail.
This was our last stop, as it was a pretty easy drive into Bend from there. We easily found the condo we were renting for the next four days, and got settled in. The owner was very helpful and provided us with some great directions on a whole number of things to do while we were in town.
We drove down to the Old Mill part of Bend, where the river flows through the newly regenerated "hip" part of town. Bend really is a beautiful town, and there's something about that river that I just find enchanting. We wandered back and forth over the bridge, watching people as they floated, kayaked and paddle boarded up and down the river.
Bend considers itself the center of the universe for beer and microbreweries, and so we hit a couple of them as we wandered. We grabbed some dinner, and eventually caught up with Graham and Colleen, friends of Justine's that we were going to be biking with over the next few days.
After getting our plans sorted, we went our separate ways. Justine and I headed down to Drake Park in the old part of Bend. The woman that owns the condo we were staying at suggested that there was a small music festival going on. We were late getting there, and only caught the last half hour or so before things started to shut down, but it was fun while it lasted. After the festival, we walked over to the St. Francis School brew pub for a last drink and a pizza.
Friday - Biking Phil's Trails
Friday morning Justine and I were up relatively early, as we were planning on doing some mountain biking, and it was getting way too hot (into the 100F every day) to leave it for later in the day. Graham and Colleen were going to be a bit later, as they needed to get their bikes checked out at a bike shop before they were ready to go.
We've ridden Phil's trail before, and they are my favourite type of mountain biking trails - fast and flowy cross country. It was about a 6 km ride from our place to the trailhead, and we were on our way by about 9 a.m.
We started the day with a big climb, working our way uphill for the first almost 2 hours to the top of Lower Whoops. That gave us over half an hour of descending back to the trailhead. Our timing was good, as Colleen and Graham arrived as we were taking a break. We were pretty tired after our huge climb, so we did a smaller loop the second time, climbing about half way up. Still so fun on the way back down. By the time we got back to the place we had done about 45km of riding - a big start to our adventures!
After a much-needed shower, we stopped at a local place for lunch, before heading back downtown. We had decided that we wanted to float down the river. So we headed down to River Bend Park, where they do the tube rentals. Unfortunately, it was about 1 1/2 hour wait for a tube. So we put our name on the list, and wandered over to the Deschutes Brewery tasting room. It really wasn't much of a hardship.
After tasting some very tasty beer, we wandered back to the park. Steve Miller and Peter Frampton were playing a show at the Amphitheater and we could hear them doing their sound checks and getting warmed up. That was pretty cool, as we decided against going to the show. By the time we got back to the park, we hardly had to wait for our tubes - it was straight into the water!
The floating was amazing. About half way through, you actually go through a set of man-made rapids that they've constructed to make it more safe than the natural rapids that were there. It was super-fun blasting through the 4 or five sets of rapids, before getting back to the calm part of the river. The whole tour took about two hours, and they have a shuttle that runs you back to River Bend Park, which is perfect.
After getting back to the park and our car, we headed back home and got cleaned up to head out for dinner. Rather than drive, we took an Uber downtown and got dropped off centrally in the old downtown. As it was the first Friday of the month, there's an Art Walk downtown - people out on the streets doing art, performing and the like. It was really awesome and the town was really lively. We wandered a bit, then headed into 900 Wall for dinner. After dinner, we were really full and decided to walk home from downtown - about a 30 minute walk. Along the way we hit up the 10 Barrel Brewing pub and had a drink, before calling it a night. It had been a very eventful day!
Saturday - Mount Bachelor Bike Park
Graham and Colleen are much more downhill bikers, so we agreed to head out to the Bike Park at Mount Bachelor on Saturday morning. The park didn't open until 11:00 a.m., so that allowed us a bit of a sleep in, and an easy start to the morning.
I'm not really a big fan of the downhill, but they have a beginner chair that gives you access to two easy runs, and one intermediate run, which ended up being perfect. And it was super cheap -$19 for the day. We ended up doing 10 runs, getting us under $2 a ride.
We ended up riding until late afternoon, before calling it and heading back to Bend. After chilling out for bit and having a shower, we met Graham and Colleen downtown for drinks, and then dinner. We had a very early start to the day the next morning, so we called it a night fairly early.
Sunday - The McKenzie River Trail
Sunday was the big day, and the main reason we had come to Bend - to ride the McKenzie River Trail. We had done this ride a couple of years ago, and it probably remains my favourite mountain biking that I have done. It's a long ride - the stretch we did was just over 25 km, but so much fun!
Because the ride is a one way trip, you have to hire a shuttle to take you up to the start. We chose to drop in at High Bridge, about halfway through the trail. We had started further up last time, but didn't enjoy the top stretch as much as the part from the Bridge down.
The shuttle was a little bit late, but by 10:00 we were hitting the trail. The trail started for us with a fairly long uphill section - tough going when you're not warmed up, but then it was downhill, along fast, flowy trails. My favourite part was later in the day, when the trail ends up running right alongside the river. That stretch is amazing.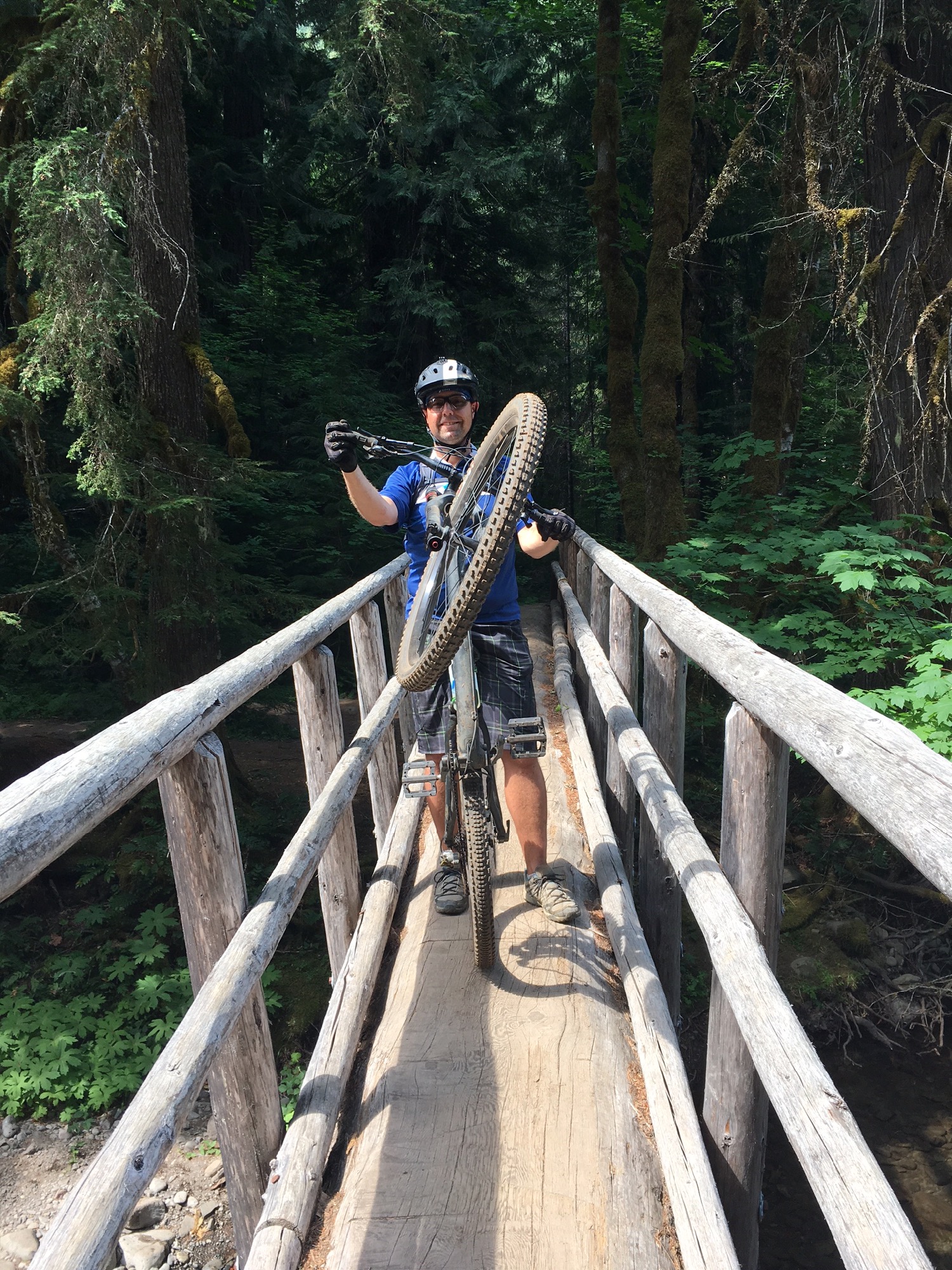 The ride took about 3 hours total time, and was so much fun. We had a beer and some snacks at the car at the end of the ride, and relaxed with Graham and Colleen for a bit, before tackling the return drive back to Bend. The drive to the trailhead from Bend took about an hour and half, but we wanted to do some exploring on the way back so we decided to take the McKenzie Pass–Santiam Pass Scenic Byway back. It's a crazy fun road that follows the path of an 1860 wagon route. The route emerges from the forest and crosses a 65-square-mile lava flow. At the summit, the wagon road had to be cut through the lava beds. As a result, alternate routes over the Cascades were used by most early travelers. Today's highway follows the wagon route over the lava beds past the observatory site. It was a fun drive.
Along the way we made a short stop to check out Proxy Falls. There's actually two waterfalls - Upper and Lower PRoxy Falls, and we ended up doing about a 5 km hike to see both. They are pretty impressive.
After doing the short hike, we got back in the car and continued driving the crazy road. Along the way we had great views of the Three Sisters, as much of the smoke had lifted, at least in this area. At the summit of the pass, they've built the Dee Wright Observatory, which is an observation structure at the summit of McKenzie Pass. The structure is an open shelter constructed with lava stone. It is located in the midst of a large lava flow, and offers an exceptional view of numerous Cascade peaks. We didn't go up and into it, as it was really busy, but we did stop to take some pictures and enjoy the view.
We ended up back in Bend around 4 or 5 o'clock. We were pretty wiped, and knew it needed to be a pretty early night. So we met Graham and Colleen at the Sun River Brewpub, and had a last couple of beers and a light dinner. It was a good last night.
In the morning we got packed up early, as we had a long drive all the way home. We left Bend around 10:30, and decide to take the longer interior route back, to avoid any Seattle traffic. Part of the drive was right through the heart of the area that will have full darkness in the upcoming solar eclipse. Needless to say, everything was hyping this huge event. This also allowed us to make a stop for lunch in Hood River, our other favourite place in Oregon. We had lunch at our favourite brewpub, then continued the long journey home.
We've done this drive before, and it takes you through just an amazing variety of scenery. Starting outside Hood River you get the desert of eastern Washington/Oregon; then you go through farm country; eventually you climb through and over the Cascade Mountains at Steven's Pass, and have the luch boreal forests and raging rivers. It's a great drive.
One thing we did a little bit differently this time, was to stop in Leavenworth for dinner. The interesting thing about LEavenworth is that the entire town center is modeled on a Bavarian village, and they host a huge Octoberfest festival every year. We've driven through, but never stopped to check it out.
We stopped for about an hour to wander the town, and have some dinner. It's a cool little town, and they seem to run festivals all year long. We might try and go back and check it out sometime.
It was after midnight by the time we got back home. It had been an exhausting day, but our trip was a lot of fun, and we had a great time hanging out with Graham and Colleen, doing some mountain biking and generally relaxing.