I was in Lisbon last week for a work conference. I'm a bit behind on that post, but I'll try and get to it soon. On the way home from Lisbon I was flying through the UK, so I decided to spend the weekend with my friends Mark and Rachel.
We ended up circling London a couple of times before landing, and there was a great view over the city. The custom's line at the airport was insane - it took me over an hour to get through. Mark was kind enough to pick me up, and before too long we were on the highway towards Tunbridge Wells.
Rachel got home just before us, and as we were all pretty tired from long weeks, so we ordered in and got caught up. It had been about a year since we had seen each other, so we had lots to talk about.
Saturday we had big plans - a day in the countryside exploring one of the National Trust heritage sites - Bodiam Castle. But before we headed out, I went for a quick run in the countryside outside of town. Mark gave me directions to a nice park outside of town, and from there I just followed the roads until I got to my time, then headed home. The "Return Route" function on my new watch is great, and it was the third time this trip it made sure I was going in roughly the right direction until I found a recognizable landmark.
The castle was about a 45 minute drive from Mark's place, which was a bit cramped for the three of us in Mark's Audi TT. But we managed. It was an OK day - clouds and sun, but no rain. The place was pretty busy when we arrived.
The castle is super-cool - classically what you think of in your mind when you think of an English castle. Round towers, the moat, everything. The only odd thing about the castle is it's location. It's not in exactly what you would call a strategic geographic location. It just kind of sits in the middle of the countryside.
From wikipedia, we get the following: Bodiam Castle is a 14th-century moated castle near Robertsbridge in East Sussex, England. It was built in 1385 by Sir Edward Dalyngrigge, a former knight of Edward III, with the permission of Richard II, ostensibly to defend the area against French invasion during the Hundred Years' War. Of quadrangular plan, Bodiam Castle has no keep, having its various chambers built around the outer defensive walls and inner courts. Its corners and entrance are marked by towers, and topped by crenellations. Its structure, details and situation in an artificial watery landscape indicate that display was an important aspect of the castle's design as well as defence. It was the home of the Dalyngrigge family and the centre of the manor of Bodiam.
Once inside, the state of the building starts to be clear. Most of the interior walls are gone or crumbling. In some ways it adds to the charm of the place. The tight spiral stairs are tough to navigate, especially for someone my size. Plus it was really busy, meaning we got stuck in various places as you waited for the train of people to break in one direction or the other.
We wandered around the castle for a couple of hours, before it was time to head to our lunch reservation at a near-by restaurant. The castle was very cool, and I was glad we stopped to see it.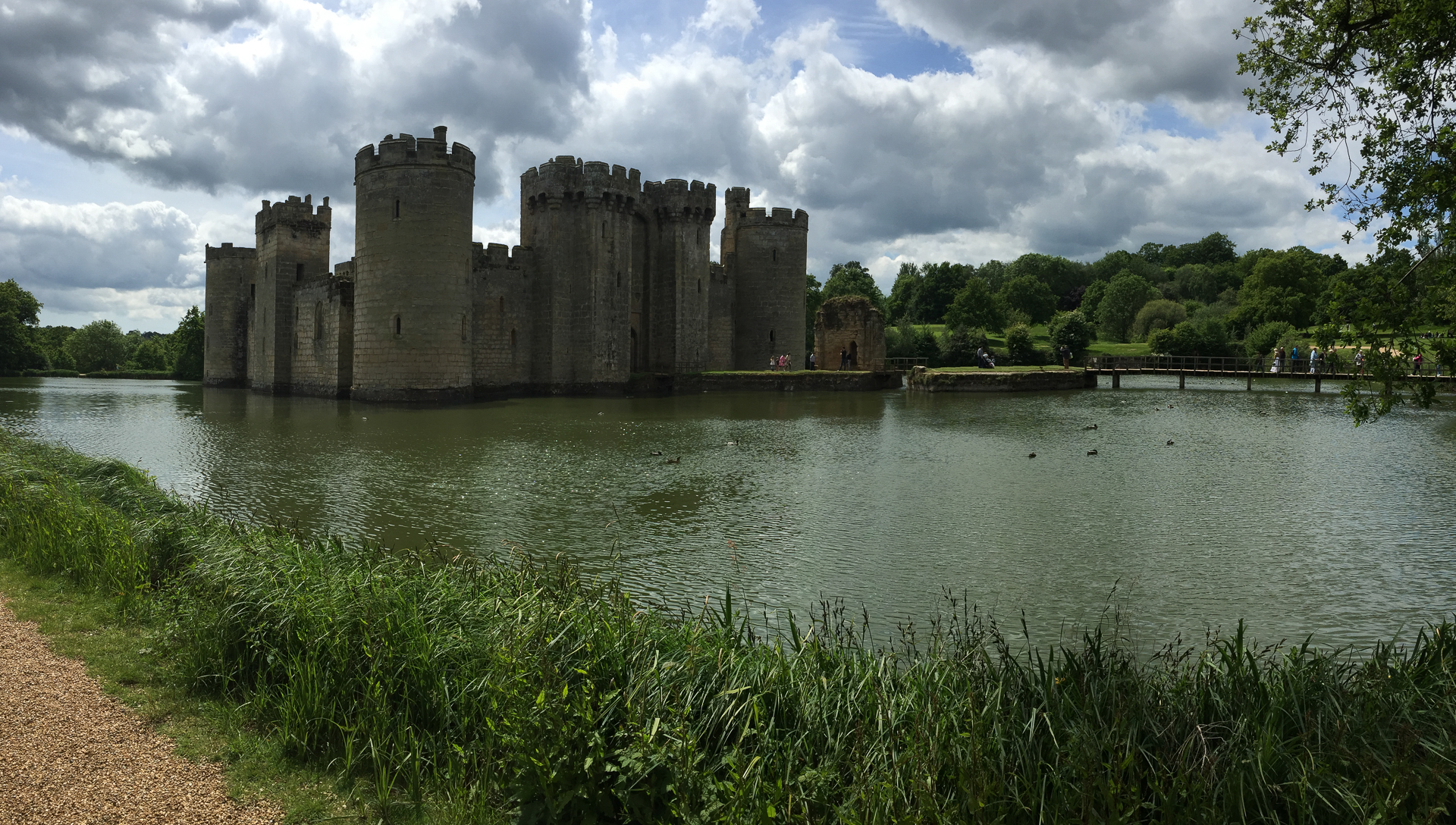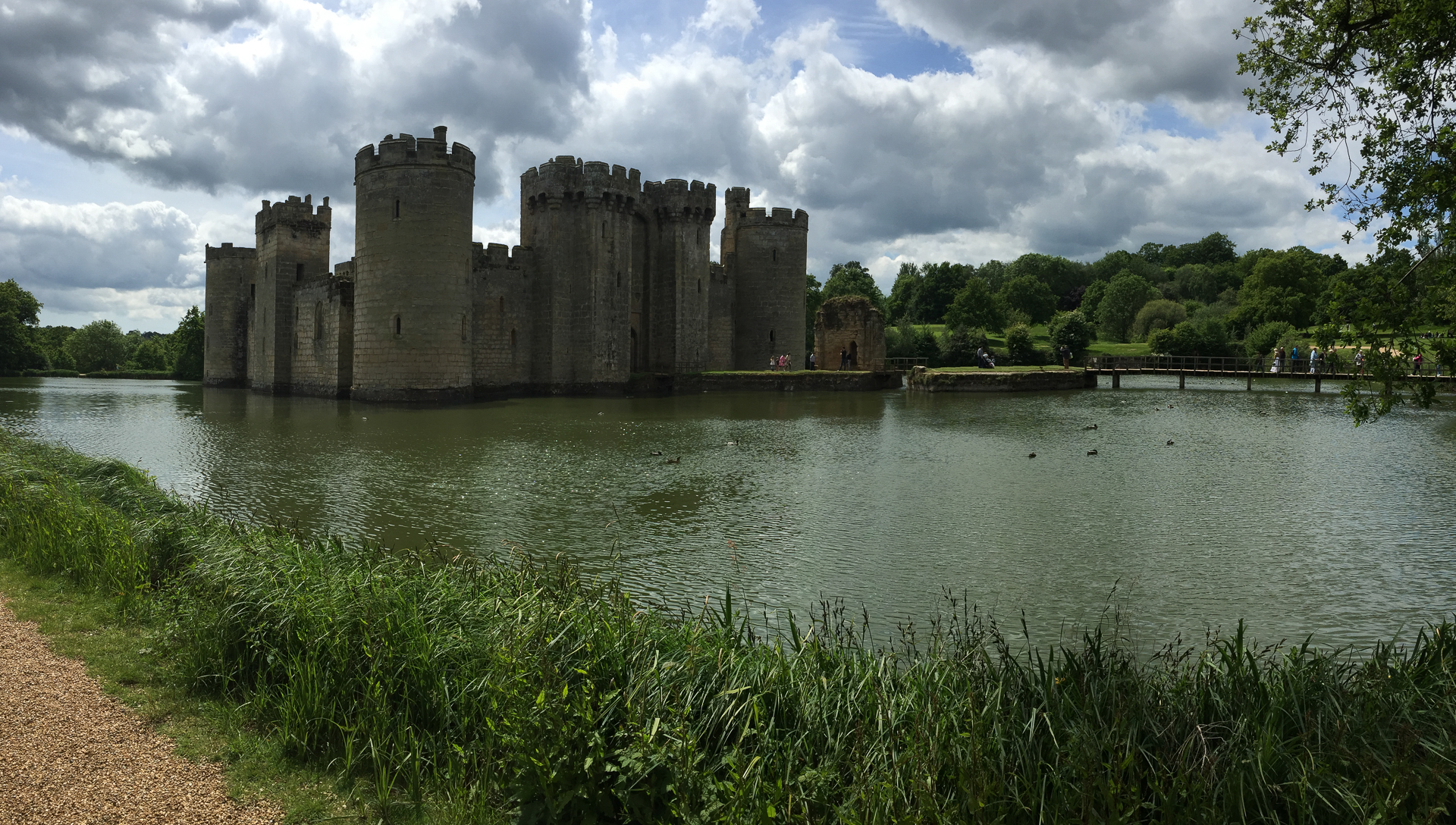 For lunch, Rachel had made us a reservation at the Curlew Restaurant. It was close to the castle, and was apparently a one star Michelin restaurant. Mark and Rachel were quite excited to try it, and it lived up to the hype. The food was amazing, and the service was top notch. It was a bit pricy, but not outrageous (other than the exchange rate on the British Pound). I had pigeon and duck, but skipped dessert. It was all around a great meal.
Sunday the weather turned on us, and it was cold and rainy. We hung at home in the morning, then went to a movie in the afternoon. Before dinner. Mark and I headed down to the local pub for a drink - I couldn't be in the UK and not stop at a pub. Monday came too fast, and I took the train from Tunbridge Wells to Charing Cross, then the Tube out to Heathrow. A bit of a pain with luggage, but not bad at two hours door-to-door.
It was great to see Mark and Rachel, and always great to be back in the UK.