A couple of months back, Justine and I were trying to sort out what we wanted to do for a vacation this year. We're headed down to Washington and Oregon later this summer, so we wanted something different.
Our initial thought had been Scotland, but with life being so busy (me with work, Justine with a job change), we decided we wanted something where we didn't need to think too much or plan a lot, and we wanted to be able to disconnect. So we settled on a cruise to Alaska. Neither of us had been on a cruise before, and we were agreed that the only destination that really held any appeal was Alaska.
With the ships departing from Vancouver, it really made it pretty easy and self-contained. Justine did a pile of research, and we ended up with the 7-day return cruise on the Celebrity Infinity, with stops at Icy Strait Point, the Hubbard Glacier, Juneau and Ketchikan. We had a lot of questions about how this was going to go, but we were excited to see Alaska!
Justine had done a huge amount of work getting this organized - she researched the cruise lines, the ship, itineraries and picked the shore excursions. As mentioned, we weren't really sure how this was going to work out - the whole cruise ship experience - and I will admit, now that it's over, that I'm not sure I'd do it again. Don't get me wrong - I enjoyed the week, we had some amazing experiences and saw some amazing sites that you can't see any other way - but the "cruise ship" experience annoyed me more than I enjoyed it. Maybe that's just a "Celebrity" issue with how they run their ship, but I suspect not. Still, I'll cover off everything that happened along the way, and hopefully it will all come together.
We got all of our paper work in order ahead of time. Bags were packed, and our boarding time as "Concierge Class" (I'll use "CC" for here on out to make it easier...) was between 11:30 and 4:00, with a suggestion that we come earlier for "special service". We grabbed a cab at about noon, and headed down to the Cruise Ship Terminal. We both mentioned how off it felt to be going on vacation without having to step onto an airplane - that was a first.
The whole process of getting on board was actually really easy. I think part of it was because we were there early, but it was well organized and efficient. The total time from arriving at the terminal to being on the ship was ~30 minutes. We were off to a good start!
Cabins weren't quite ready yet, but we were able to head to the main dining room for lunch. We got out first taste of the serious amount of food we were about to consume over the coming week. Lunch was excellent - three courses that were all quite good. On this note, Celebrity excelled. The food was more often than not excellent, and even the buffet food was really good. If you could get near the place. On our first day we went down (what we thought was) late, got our food and did 2 trips around the "Oceanview Cafe" before abandoning our food uneaten. We couldn't find a seat for two of us. From then out we'd find a table, then go get food, but this was really annoying. We tried varying the times, but it didn't seem to matter. This was the first point of contention with the "cruise experience".
During lunch there was a notification that rooms were ready, so we headed up and got settled in. The room was quite nice - big enough, lots of storage space, decent bathroom and of course the aforementioned excellent deck! After unpacking (I liked that we were in one place for a whole week), we headed out to explore the ship, prior to our 4:30 p.m. departure. Here are a bunch of random pics from around the ship.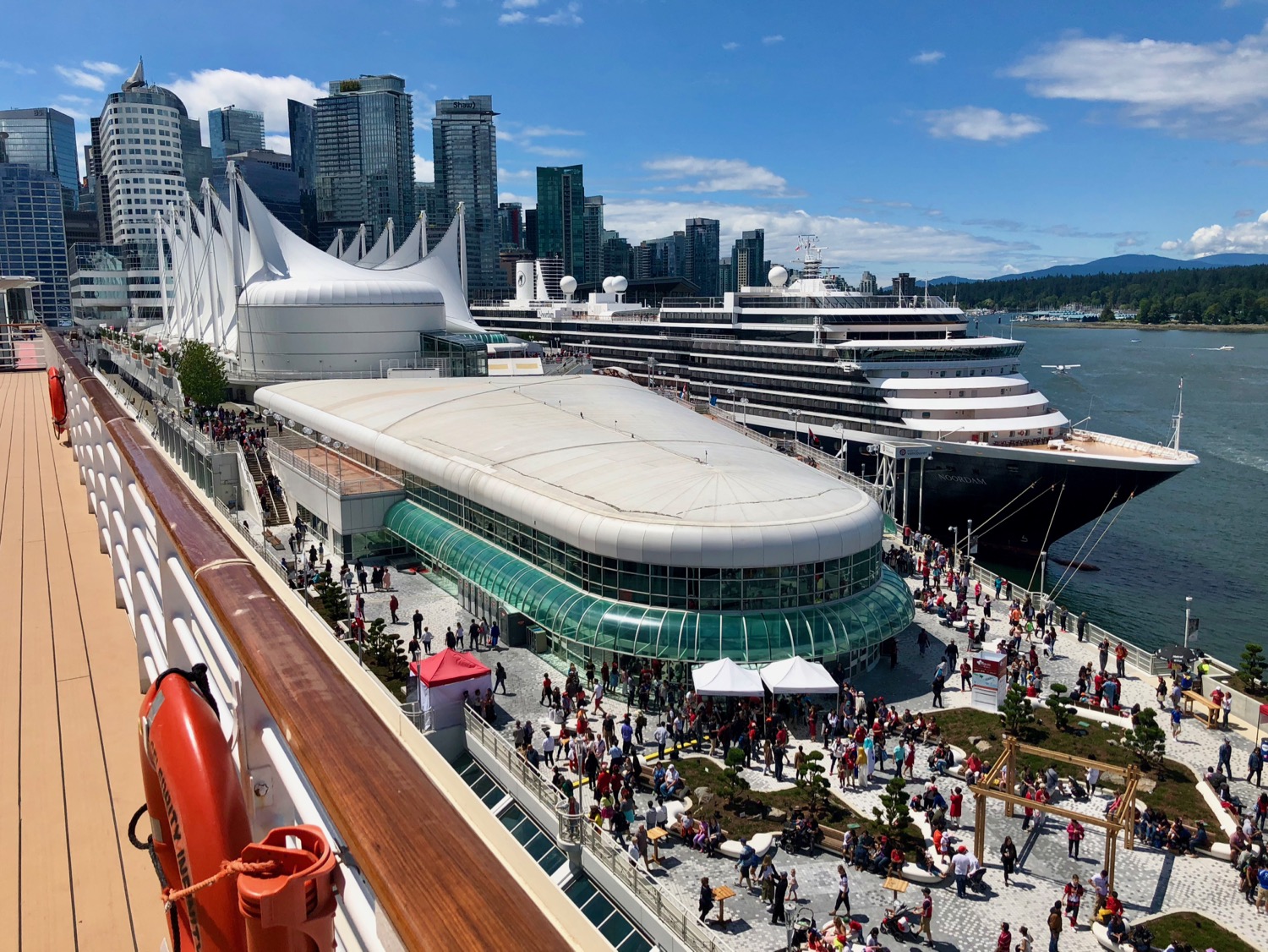 We had a good 2+ hours to explore, and we got to see most of the ship and get a feel for the layout, and where everything was. It's a really nice ship, and we identified a few spots that would become our regular haunts.
Before long, it was time to set sail and be on our way!
As we were leaving, I got a couple of my new favourite views of the city.
We sat up on the upper decks enjoying the scenery go by for quite a while. It was warm and sunny, and if you got a spot out of the wind it was quite nice. We lounged on some deck chairs for quite a while, watching North Van, West Van and the Sunshine Coast drift by.
Eventually we had to go in and get ready for dinner. We went and had a drink at one of the bars first, and quickly discovered my second major issue with cruise ships. It seems that every thing we were going to do over the next 7 days was an opportunity for them to sell us something. We had bought a bar package that gave us unlimited drinks (not a surprise, I know...) and while on the surface it seemed like it covered quite a lot, there ended up being all these exceptions and hassles - and almost every day they tried to up-sell you to the premium package. It got very tiresome, very fast. And it was cheesy things like they would pour you a glass of Coke, but if you wanted the whole can, then you needed to upgrade. Ridiculous.
Our dinner reservation was for 8:30, which was our time slot for the week. We quickly came to really like the sommelier, waiter and waiter's assistant who all looked after us very well over the course of the week. The food was excellent, and we ended up at the main dining room every day except one. After dinner, we headed to our room and watched the scenery go by until it got dark.