Back in May, after I had received a "rejected" e-mail" from the New York Road Runners for the 2007 New York City Marathon (yeah, I thought about doing it again…), I added my name to the list for the half marathon. Figured it would give me something to train for, keep me motivated, and give me a reason to come to New York again this year. I was pleasantly surprised when I received confirmation that I received a lottery spot. So I made my reservations, and started training. Or tried to anyway. Right from the beginning, I was plagued with non-running injuries. Early in the Ultimate season I pulled a hamstring. Not bad, but it stopped me running. Then a week after the hamstring had healed, I tore a calf muscle. That one was bad. I let it heal (or thought I had), only to re-aggravate the injury playing beach volleyball a month later.
As a result, the training wasn't going well. Along the way, a re-occurring problem with my back kept flaring up. As it turned out, I was only able to start training the first week of July. Not nearly enough time, but I figured I'd run slow, and figure out a way to finish. Then, foolishly, the Sunday before heading to New York, and one week before the race I was playing beach volleyball (I know, I know – but I had played a couple of weeks before with no problem!), and re-injured my back. Badly. Couldn't walk on Monday, or even go into the office.
But the reservations were all made, so there was not point canceling the trip. A couple of physio session later, I was on the plane, the back was feeling somewhat better, and I had a long weekend of fun ahead of me in New York!
Thursday August 2
The flight from Vancouver was uneventful, and I ended up at my hotel at about 8:00. I had booked a room in one of New York's newer "boutique" hotels, Night. Not surprisingly, the décor was all black and white, and very goth-influenced. All in all, very cool. The room was small, but not as small as some. It was nicely appointed, with a big flat screen TV, nice furnishings and a well-appointed bathroom. And the air conditioning was cranked. I had forgotten how hot and humid the east coast gets in the summer. Vancouver is so much more civilized!
After unpacking (I hate living out of suitcases – need to unpack), I decided to head out for a bit of an evening. In doing some research, I kept coming across this club near Chelsea, called Culture Club. Apparently they do a wicked 80s night, and that sounded fun. So I headed down, and got in about 10:30. Given that it was a Thursday night, I guess I shouldn't have been surprised at the lack of a crowd, but those that were there more than made up for it with enthusiasm! The place was something else – I have never seen, and I am pretty sure I will never see again, a 20 foot high portrait of Debbie Gibson (that brought back some memories I'm sure!). And Prince, and some others I can't remember. Plus, lots of wild things like the Back to the Future De Lorean; big Rubix Cubes; the club's Pacman logo; and lots of black light. The kitsch was fantastic. The music was… fun. We got Meatloaf, Wham, old U2, Prince, Katrina and the Waves; and a whole lot of others that I can't recall right now. I sat back and watch the mayhem, thoroughly entertained. There was a bachelorette party going on in full force, and the girls were obviously having a good time. I hung out for a couple of hours, before heading back to the hotel.
Friday August 3, 2007
Friday was a very busy day – that started late. I didn't set a wakeup call, and didn't rise until after noon. I started my day by wandering down toward Greenwich Village, and found a little street market that had been set-up. Wandered through the booths, and grabbed a falafel from a vendor for breakfast/lunch. Once the heat (more the humidity – damn I didn't bring enough cloths!) got to be too much, I headed back to the hotel to change. After that, I hopped the subway uptown to the Met. Pretty much every trip to New York I need to spend some time wandering around the Met. It's amazing, and this trip I got to see their newly reopened Greek and Roman exhibits (great new space), along with a temporary Impressionist exhibit that had some excellent Renoir's on display. Along with some of the old favorites, it was a great afternoon.
Around 6:00, I hopped back on the subway, and continued uptown to the House that Ruth Built – time for a Yankees game. Being a sports nut, it was pretty important that I got to see a game at Yankee stadium before they tear it down. Same holds true for other classic parks like Anfield (Liverpool) or Fenway, but that will be on other trips. Deal with them as I can. It was a great experience. While I've been to a lot of baseball games, most of them in Toronto (which is an awful ballpark), there's nothing like a baseball game in the US. There is more of an appreciation for the game, more fan involvement – just a better experience. Much like watching hockey in Canada is way better. I managed to snag front row seats, down the third base line. There were foul balls hit our way all night – the kid next to me ended up with one, which was cool. The night was also one of anticipation, as Arod, was trying for his career 500th home run. He didn't pull it off (bastard waited until the next day…), but he drove a couple of balls deep, and it contributed to an electric atmosphere. I think the Yankees ended up winning, but really, who cares. To end the evening in the right way, a huge thunderstorm blew in, and totally lit up the night. We don't get thunderstorms in Vancouver, and I'd forgotten how damn cool they are!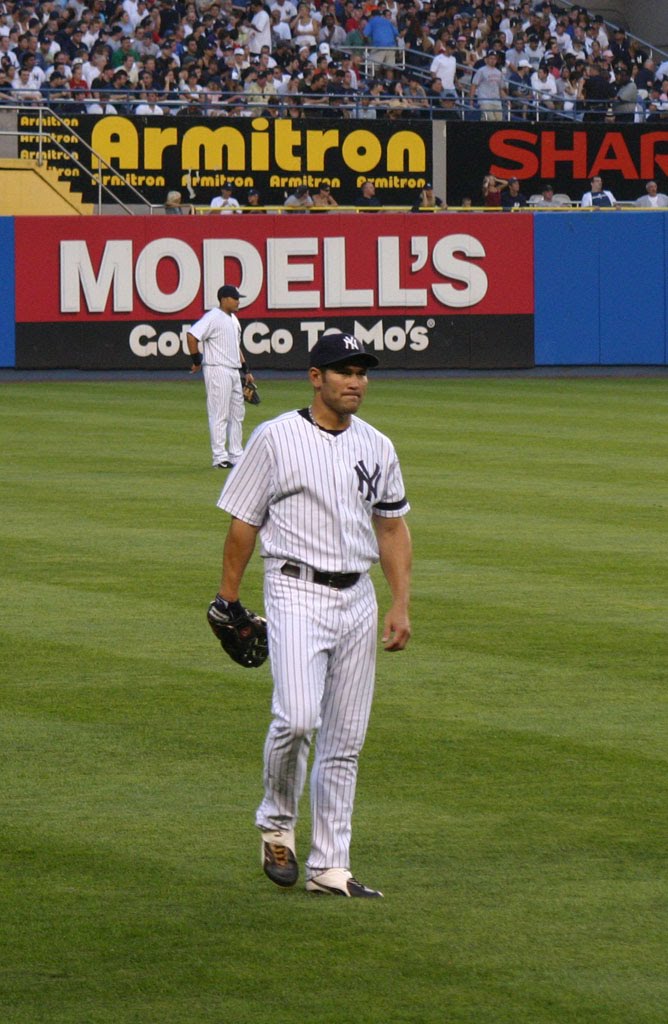 Saturday August 4, 2007
Most of Saturday was spent wandering around New York, and doing a bunch of shopping. I need a couple of clothing items, and so part of the day was spent shopping – not one of my favorite activities. It was successful though, and I got done what I needed. That evening, I finally went to see a Broadway show. Spamalot – the Monty Python "adaptation" of the Quest for the Holy Grail. Now, I'm not much of a musical fan – frankly half of the songs seem like filler; there's just no need for that much singing. But the show was pretty funny – very campy, which made it all the better. The various shots at musical theater were pretty good. All in all, a pretty good evening. I still wish I had been able to get seats for Wicked instead. Maybe next time. After the show, I went back to the hotel and went to bed, still not knowing if I was going to run the race in the morning…
Sunday August 5, 2007
Five o'clock came very early, and I did not sleep well last night. I got up, and my back was still bothering me, but I decided that I would run the race anyway. I'm not really good at giving up, or giving in to adversity, and that's what this felt like. So I got ready, and headed to the subway for the race.
At the race start, I was nervous liked I'd never been. I had come up with a bit of a race plan, and hoped that it would be enough to get me through the race. It actually started pretty well. I got through the first four miles before taking a short break at the second water station. Part of the plan was to stay well hydrated. The second part of the plan came at the first of the big hills in the park – I walked. I figured it was better to walk the hills and conserve my energy for later in the race. There were three or four sizable hills, and I ended up walking all of them. As we lapped the park and came out onto 7th Avenue (just past 7 miles; a little more than 11 km and the half way point), we came into Times Square. I had told myself at the beginning that I was going to run all of Times Square. I did, but it took its toll, and I ended up walking most of the distance along 42nd Street, over to the West Side Highway. At this point, I was fading fast, but we were over nine miles in, and I was pretty confident I could finish in under the three hour limit – even if I had to walk it all! After that, it was a series of runs, punctuated by walk breaks. Until mile 12, where again, I had told myself that I was going to run the last mile (OK 1.1 miles), regardless. That was tough, but I did it and finished in 2:09:39. Horrible, but given the lack of training and the physical problems, that finisher's medal has some value. All in all, I don't think I did any major damage, and I've now run both of New York's premiere running events. Pretty cool really.
Of course, by the time that the race was over, and I had hobbled my way back to the hotel on the subway, it was still only 11:00 in the morning. So I went back to bed, and tried to sleep away some of the pain. I woke up around 2:00, and headed back out (albeit slowly, and painfully). In my opinion, the best way to spend a sunny, Sunday afternoon in New York is to buy the New York Times, wander into Central Park and laze the afternoon away reading the best newspaper in the world. So I did. And it was a great afternoon. I found a nice shady spot on the edge of the Great Lawn, with a view back over thousands of people enjoying the summer sunshine. I read the paper (which takes time, given the size of the beast), read my book, and hung out until early evening.
After limping back to my hotel, I got changed and headed down to the Meat Packing District (one of New York's new and trendy areas) for dinner. I splurged a bit, and treated myself to a nice dinner at Spice Market, this very cool, upscale Asian restaurant. I had wanted to go out for the evening, but I was still way too tired, way too sore and so I headed back to the hotel, and went to bed.
Sunday was uneventful – headed back to the airport, and flew home. The flights were uneventful – except that I got upgraded to first class from New York to Chicago, which was a nice treat.
All in all, it was a great little holiday, and now, as the pain subsides, I am very pleased I ran the race.