For the record - I love San Francisco. It's definitely one of my favorite cities to visit. So much like last week, I flew down Saturday morning, and my flight back was Sunday, early evening. Not a lot of time really, but I had some ideas as to what I wanted to see and do.
After arriving, I picked up a rental car, and headed to my hotel. This time, I was a little smarter and booked a room. After dropping off the car at the hotel and checking in, I wandered over to the weekly farmer's market down near Fisherman's Wharf. It was nice to stroll through the stalls. Lot's of interesting things to see. Across the street, there was a major demonstration/protest going on. It seems that the Pro-Life crowd was doing their thing, which promoted the Pro-Choice crowd to start their own parallel protest. It seems that later this week is the anniversary of the Roe vs. Wade US Supreme Court decision that made abortions legal in the US. They've been having these demonstrations for a number of years now. In the paper the next day, I think they mentioned that it was close to 30,000 people in total. Wild.
After avoiding that whole mess, I wandered up Market street to the main shopping district of Union Square. One of my goals was to do some browsing in the small, independent art galleries. My guide book suggested a few, and so I made a number of stops along the way, before getting to Union Square. One in particular was amazing - and I almost missed it entirely. The guide book indicated that it was "nondescript" from the outside. What an understatement. I had the address, and basically walked right up to the outside of the entrance. The doors appeared to be closed, and it looked like the lobby of a typical 5 story office building. I assumed I had the address wrong, or it had been closed or something, and started to wander off. A security guard came out of the lobby and asked me if I was looking for the art galleries. After confirming, she sent me up the elevators. It was so cool - basically every floor of this office building had been converted to gallery space. There were at least 20 or 30 galleries, all doing very different art. I spent a good two or three hours in that building alone. After hitting a couple more small galleries, I wandered into Union Square and grabbed lunch at a little Italian deli on the edge of the square.
Have I mentioned that the weather was amazing? By this point in the day, the high cloud cover had burned off, and the sun was shining. It was about 15 degrees, and not a breath of wind. The whole weekend continued that way; it was absolutely spectacular! After lunch I spent the rest of my time wandering the streets, checking out various neighborhoods, and taking pictures, Hopefully I'll post some later this week. San Francisco is a great city for walking - as long as you don't mind the hills! It affords some amazing views of the city, the Bay and the bridges. It was about 5:00 by the time my meanderings led me back to my hotel. I crashed out for a bit, then headed out to dinner.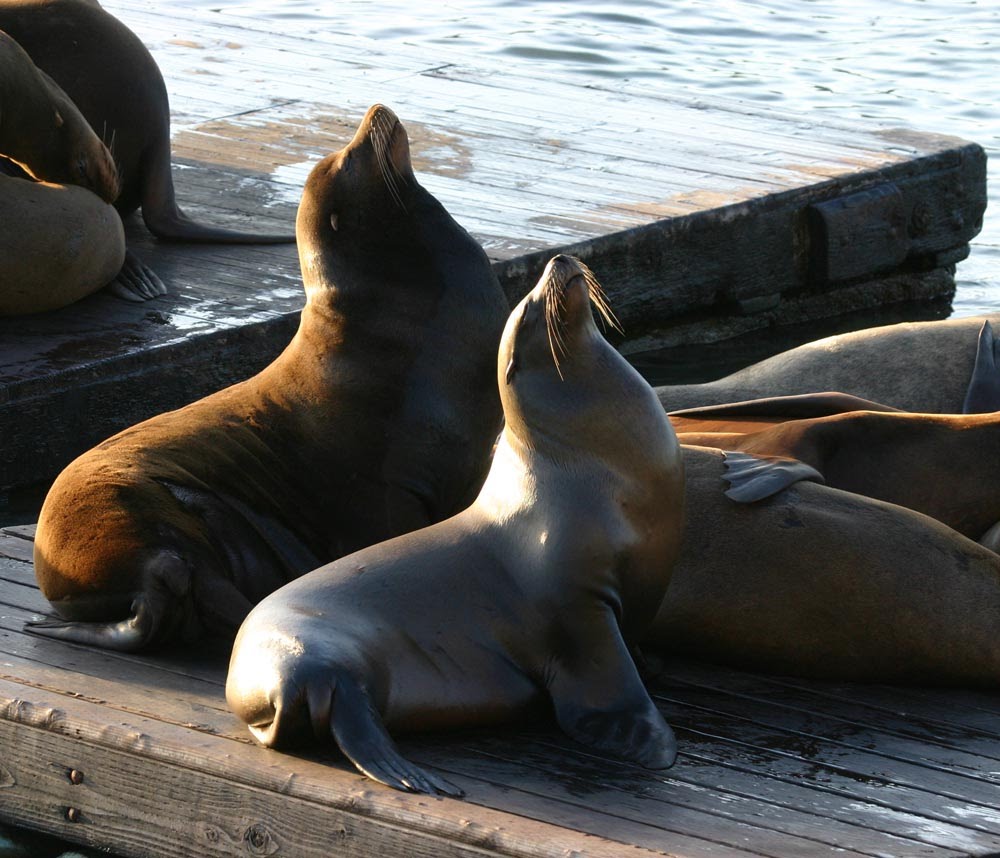 The concierge at the hotel recommended an authentic Chinese restaurant, and I headed over there. The recommendation was to have the Salt and Pepper Crab, and man was that a good recommendation! It was a whole Dungeness crab, deep fried in this salt and pepper batter. Oh my god... Dinner was made even more enjoyable by the two women that sat next to me at the bar (where I was eating, 'cause the place was packed!). One was a local, the other her friend from Salt Lake City. They ended up ordering exactly the same thing I had, which led us into conversation. They were a riot, and we had a good laugh throughout dinner. Eating alone is the only thing about traveling solo that's a bit of a drag. So it's nice to have an evening like that every once in a while.
After wandering back to the hotel, I grabbed my car and headed to - your guessed it - a casino. The Bay 101 is about 40 minutes from San Fran, in San Jose. I like to play for a bit in every city I go to, and the Bay 101 is one of the bigger name casinos. I got there close to 10:00 and played to about 1:00. I didn't want to make it too late. I won a little bit - covered the cost of my rental car basically, so it was an OK night. I got way up at one point, then got very unlucky and gave some of it back.
Sunday, my plan had been to go for a run over the Golden Gate Bridge. Seemed like a cool idea. Sadly, it didn't really pan out. I had planned to get up at 8:00, and go for the run. I didn't bother t get a wake up call, as I always wake up early. This time, 10:00 had come and gone by the time I woke up. I guess I was a little over-tired. The run would have taken me a good 2-3 hours all together, so I decided that I'd do some more walking instead.
I headed over to an area of town called The Marina, which I had not seen before. One of the big attractions is the Palace of Fine Art.
It was built in 1915 for the Panama-Pacific International Exposition, and is an amazing structure. I'll try and get some pics up. Sadly, it's starting to get run down, and the city is trying to raise funds to restore it. It's an amazing structure, and I hope that they manage to save it.
After wandering around there for a bit, I headed back into the main street of the Marina district. There was a cool looking sports bar with big, open windows - and the Bears/Saints game was just starting. So I sat down at the bar and watched the first half. This whole situation was made even nicer by the very hot bartender/waitress who was looking after the place, and spent more time than was strictly necessary chatting with me as I watched the game. It was good for the ego. :-)
At half time, I packed up and headed back to the hotel. I checked out, grabbed the car and headed out to my last stop. I had about three hours left before I needed to be at the airport, so I headed out to an area called "Land's End". As you might expect, this was a park area perched up on the edge of the Pacific Ocean. It's very beautiful - rugged cliffs with views of the Golden Gate Bridge; interesting old structures from what was once the Sutro Baths; and amazing walking trails through big Cypress trees. After being up-close-and-personal with the Cypress trees in the area, I now understand why Van Gogh had such interest in them, and used them as subjects in so many of his paintings. The trees are amazing - they have such a unique shape, the texture of the bark is interesting, and the way light plays off them is fantastic. I think I spent a good 1/2 hour taking detail photos of a couple of the bigger ones. I hiked for a little bit, then had to call it a day.
On the way back to the airport, I drove down the beach for a while. It really is a spectacular, rugged stretch of coast line.
Overall, it was an excellent, relaxing weekend. A good one to sandwich between trips to Las Vegas...