Well, this is my last night in Memphis. I've been here for about a week, and I am ready to go home. Of course, it's only for a day, and then I'm off to Las Vegas on Saturday. But more on that later.
Memphis - there's not much to say other than that I was underwhelmed. There's just not much to this city - pretty run down, and Beale Street certainly isn't Bourbon Street! We had our conference at the Peabody Hotel, which frankly is the nicest thing about Memphis. It is a beautiful hotel - they just don't build them like this any more. And I'll give them credit - the ducks are kind of neat. Of course, being an old hotel makes it really interesting when you're putting on a show. Running network infrastructure is a challenge, and even little things like getting equipment into ballrooms becomes far more difficult than it should be.
I was responsible for setting up and managing our Demonstration Pavilion. This is where we do demos of all our different software components, and show our customers what was new. We had 16 different demo stations within the Demo Pavilion. The picture to the left was of the Continental Ballroom at the Peabody Hotel, where our Demo Pavilion was setup. It turned out really well, and the demos went OK, for the most part.
As the Peabody is really the only nice hotel in Memphis, the hotel apparently has a contract with the NBA for the visiting teams when they're in town to play the Vancouver-I-mean-Memphis Grizzlies. We're not bitter about losing the team still... Because of the size of our conference, we had booked out pretty much the whole hotel - before the Grizzlies had made the playoffs. As a result, the Dallas Mavericks ended up needing to get a couple of suites from us, and in return, we ended up with tickets to the Saturday night playoff game between the Mavericks and the Grizzlies. And I scored a ticket! It was a fun game - even if the Grizzlies ended up losing. Great atmosphere in the building; the game went into overtime and there were some spectacular plays. The Grizzlies lead most of the game - until about the last 5 minutes of regulation when Dirk Nowitski decided it was time to play. At that point, he stole the show, and killed the Grizzlies. Pretty amazing. Here are some pictures from the game: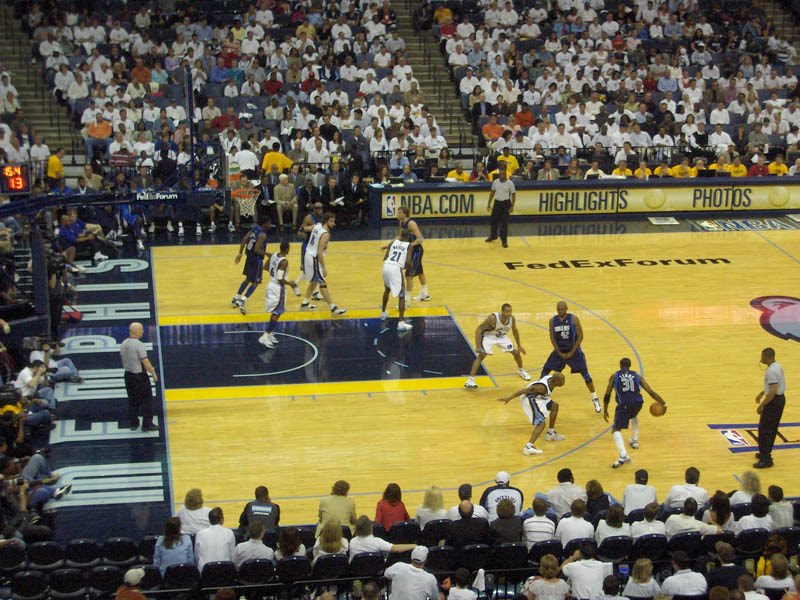 It was also pretty cool having the Mavericks stay at the hotel. One morning they had the conference room next to one of ours for their breakfast/team meeting. They had a big screen TV and were going over game footage. There was also a big white board where they were reviewing plays. Three or fours times I got into an elevator with 5 or 6 members of the team - it's not often I get into an elevator, and am the shortest person there. By like a foot...
Graceland...
For our big closing gala, we rented out Graceland. Yep, it was off to visit with The King... OK, I'm not sure what I was expecting, but it certainly wasn't that. The visit to Graceland may have been the single most bizarre, surreal experience of my life. Graceland is a a strip mall. I just can't get over that. The car museum, the planes, they're cool enough, and the mansion itself is nice.I can't pinpoint what I found so disturbing, but I did. Graceland was something I never would have done on my own, so in a way I'm glad I've seen it, and don't really need to ever go back again.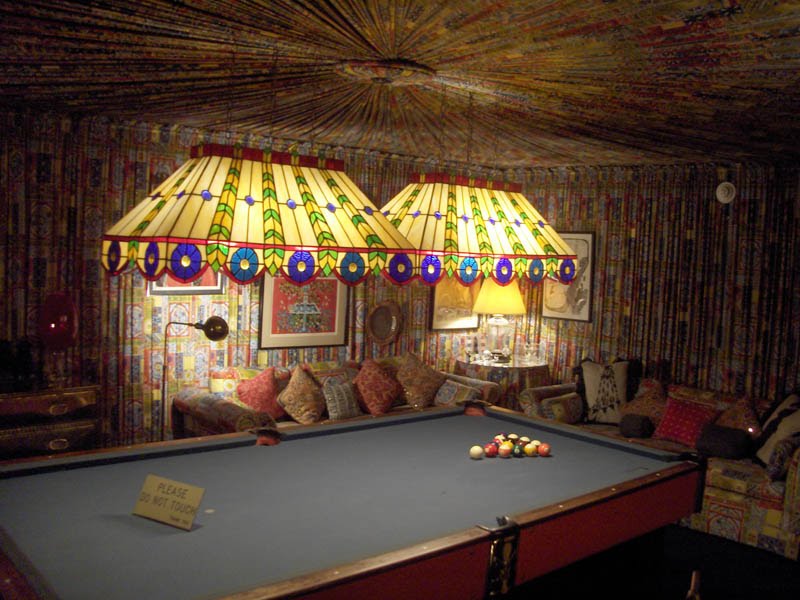 On the last day, we tore down the trade show, and got everything all packed up to send back to Vancouver. These shows are tough in that you spend months planning for the show, and then it's all over in a couple of days. But that's all part of the process. We got wrapped up at about 1:00, and as it tuened out there was a baseball game that afternoon. The Memphis Redbirds (AAA team for the St. Loius Cardinals) play at Autozone Park, right across from the Peabody. Benny, Wayne and I headed over to catch the game. It was an amazing afternoon - bright, sunny and very warm. We grabbed seats right down to the first base side of home plate, and watched the game. In fact, it was too hot - we ended up moving back into the shade to avoid getting burned. The game was a lot of fun - the home team ended up blowing them out 17-4. The game had a little bit of everything, and it was a good ending to the week.